WINFIELD TWP.
ORGANIZED 1843 NAMED FOR WINFIELD SCOTT OF MEXICAN WAR FAME. THE FIRST SETTLER JEREMY HIXON 1838 LANDED AT THE POINT WHICH IS NOW WINFIELD VILLAGE.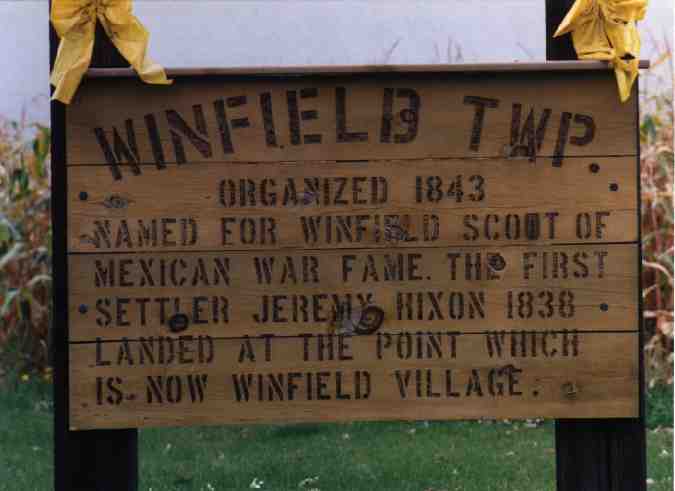 north side of Winfield Road in original village of Winfield
1992 photograph

This inscription, on a metal and wooden marker on a post in the south and to the west side of the Winfield schoolyard, has been deciphered by Mrs. Carl Sapper: "WINFIELD TOWNSHIP ORGANIZED IN 1843. NAMED FOR GENERAL WINFIELD SCOTT OF MEXICO WAR FAME. THE FIRST SETTLER, JEREMY HIXON, 1838, LANDED AT A POINT WHICH IS NOW THE VILLAGE OF WINFIELD."
So it reads on page 176 of Historical Association of Lake County, Indiana Reports and Papers, Volume XII. Obviously the modern sign was based on the earlier one. This book is still available from the Lake County Historical Society, by the way, at a bargain price.




Have you found this page useful or interesing? If so, please join the free Historians Club. We wish to have lots & lots of members so that we can have more features.

Questions, complaints, suggestions, additional links? Please e-mail the webmaster.

This page is at http://IanHistor.tripod.com/hlmkr/winfield.html.

This page developed 31st January, 2000.