Joseph Bailly, Fur Trader


Beaver felt hats, the fashion style in Europe and the eastern United States, created a demand for beaver pelts. This demand, and the Potawatomi Indians' desire for trade items such as blankets, knives, metal hatchets, fabric and clothing, enabled Joseph Bailly to operate a modest fur trading business in the 1820's. Potawatomis brought the beaver pelts to Bailly in the spring of the year; he shipped them to Mackinac. From there they traveled to Montreal and eventually to Europe.

By 1830 Bailly's fur trading business had nearly ended. Overtrapping had nearly depleted the beaver population in the area and the beaver felt hat had gone out of style. In the early 1830's Joseph Bailly opened a tavern northwest of the homestead on the Fort Dearborn to Detroit Road (present day U.S. Hwy. 12) to supplement his income. The fur trading era in northwestern Indiana had come to an end.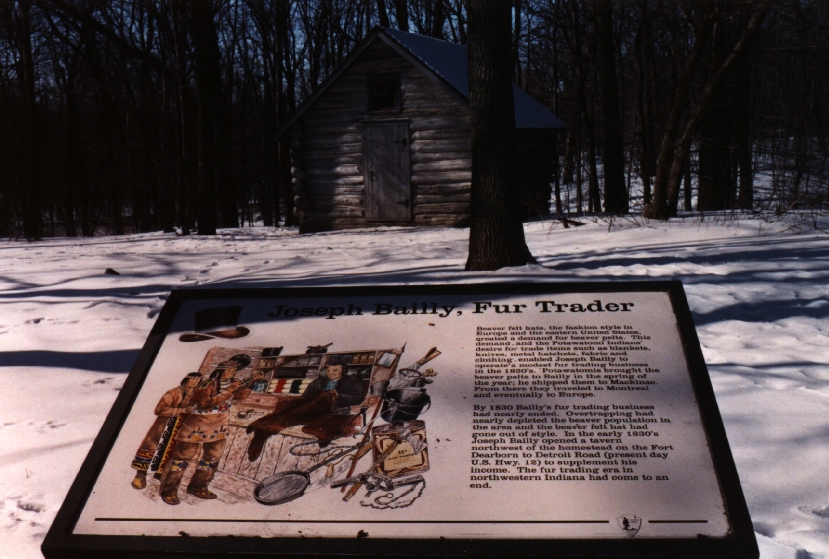 at Bailly Homestead, Howe Road north of Little Calumet River, Porter, Indiana; Indiana Dunes National Lakeshore
February, 1994, photograph Have you found this page useful or interesing? If so, please join the free Historians Club. We wish to have lots & lots of members so that we can have more features.

Questions, complaints, suggestions, additional links? Please e-mail the webmaster.

This page is at http://IanHistor.tripod.com/hlmkr/furtrade.html.

This page developed 4th February, 2000.